History & Heritage
---
Walking through history: Soon after the First Fleet arrived at Sydney Cove, an expedition was sent out which passed through where The Spot is today.
---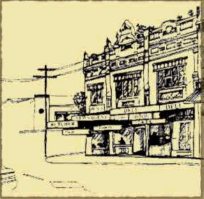 Simeon Pearce the "father and founder" of Randwick village had visions of a model community of prominent people living in grand houses with much of it reminiscent of his birthplace, Randwick in Gloucestershire England.
Randwick, the first Municipality to be incorporated in Australia (1859) today is distinguished by the presence of a large number of public and private buildings dating from the period 1847 to 1887.
The grand houses of the early Randwick village and their occupants needed the services of tradespeople, retailers and labourers. The obvious place, convenient to but out of sight of the grand houses, for these service people to live and work was on the southern outskirts, at the margins of the model village. Small businesses were established (from late 1850s) along Perouse Road while nearby, in the area south of St Paul Street, a rough settlement known as "Irishtown" appeared.
The land along Perouse Road offered opportunity for the establishment of business enterprise. The first of theses businesses was a boot maker's shop and an ironmongery then followed a corn dealer and a carpenter. A little further south, in the area now known as The Spot the Walsh family established a dairy and lived in the only house in St Paul Street set in the solitary splendour of a paddock. Perouse Road in the area leading down to The Spot became the commercial centre of early Randwick.
The growing village and municipality needed labourers to quarry and cut stone for building and construction. This work force largely comprised Irish workers who settled in the area south of St Paul Street, which became known as Irishtown. They represented the poorest section of the Randwick community. As labourers employed by the Council, the men worked a ten-hour day six days a week for daily pay of only 6 shillings. An extra shilling could be earned by those willing to extend their workday by two hours to twelve hours a day. The low wages prevented the residents of Irishtown constructing anything grander than shanties for their homes. These they built out of kerosene tins and any old scrap pieces of wood and metal they could lay their hands on.
Meanwhile to the west, the more substantial settlement of Struggletown was taking shape. Here, Simeon and James Pearce had bought a 10 acre (4 ha) block of land south of Barker Street and east of Botany Street in 1852. By the end of the decade their new market garden in south Randwick had become the focus of their horticultural business.
Source: Simeon Pearces's Randwick - Dream and Reality by Brendan O'Keefe. Published by the University of New South Wales Press. Available from the Randwick and District Historical Society.